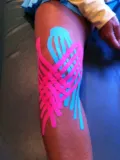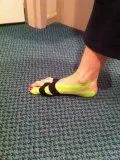 Dr. Cohen is Certified in Kinesio-Taping and Neurostructural taping and integrates these modalities to enhance her results.
These are therapeutic procedures using special elastic kinesiology tape to help support your chiropractic adjustment and to continue the healing process when you are at home.
Elastic Kinesiology taping is based on the ability of this type of tape to heal injured tissues and support overall function of muscles, joints, circulatory and lymph system. Kinesiology Tape supports and stabilizes, decreases inflammation, improves function, and unlike other athletic taping, allows for full range of motion during exercise and training.